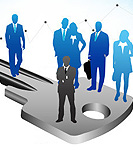 Omex has a central equipment workshop and maintenance facility at its main works in Ahmedabad for the in-house manufacture and maintenance of its critical equipment. One of Omex's key strategic advantages has been its ability to deploy a large equipment infrastructure to suit the most demanding project schedules.
Omex manufacture various components like Gear Box, Driving Sheave, Lift Duty Motor, Lift Cars, Guide Rails, O/S Governor, Gate Locks etc. are manufactured under one roof of a fully equipped manufacturing unit at Ahmedabad (Gujarat), INDIA.
Thus it is a pride that we proclaim ourselves to be masters of hidden technology.
Overspeed Governor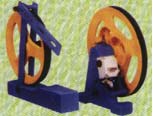 OMEX overspeed governor operates when elevator exceed the rated speed in the downward direction. The speed governor controls this speed by operating the safety gear, which switches off main control. This unit is tested before installation in the factory.
Motor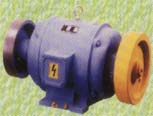 Omex A.C. single speed & two speed lift duty motor have high starting torque, low starting current and high efficiency achieved by double copper rotor and copper enamelled wire wound stator D.C. variable voltage generators & motors tested for torque at low speeds and smooth acceleration & retardation.
Diverter Cully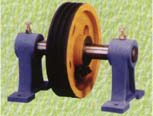 Omex diverter cully manufactured from graded casting Iron having modified 'U' type of Grooves for steel wire rope. The diverter cully is fitted on Sapteen (En - 24 materials) with Bronze Casting Bush at two stand
Gear Box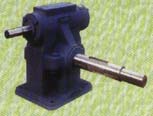 OMEX worm gear is made of composite casting phosphor bronze rim of better bearing property of gear & graded cast iron boss for higher impact strength. The work is made of EN-24 high carbon steel. The gearbox components are machined & finished by grinding to close tolerance. Gear & worm meshing is done by lopping process of higher precision. Double thrust bearings limiting the backless to less than 20 micron. OMEX gearbox is a perfect lift duty gear machine
Main Sheave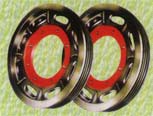 Omex Main sheave manufactured from grated casting iron having modified "V" type grooves for elevators wire ropes.
The hub of the sheave hydraulically fitted on the worm wheel saft, the main sheave can easily fitted on the hub making very easy replacement.
Brake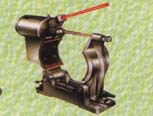 Omex type Electromagnetic brake designed for smooth stoppage of the lift with arrangement to release the brake manually & bring the car to the landing if the lift stops in between the Floors due to any reason.
Control Panel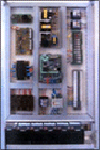 Omex type of control Panel is the Microprocessor and Non Microprocessor having the Standard Feature of Collective Sellective system, Operative on 24 volt D.C. Power supply which totally eliminates possiblilities of short Circuits and accidents.
Landing Plate \ Car Operating Panel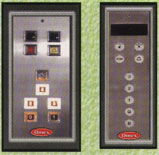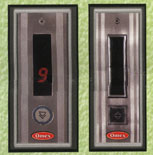 Omex Landing & Car Operating Panal (C.O.P) having stainless Steel brush finished aprox 2 mm thick face plate with sturdly metal box, soft tuch push button having 1 No & 1 NC Contact & Different Colour LED illumination, Its also having 1" seven segment digital floor position indicator with digital Up and Down direction arrow indicator, protected with good quality acrylic.
Machin Set